Includes
Tailored Online School Tour

Up to 3 pre-recorded videos

Zoom setup & support

Ready-to-host in 2 weeks
The benefits of building your online resource
Booking tours will become more flexible
Easily update registrations and bookings. Even host tours without key people if needed.
Convenient options for parents to attend
Parents can attend school tours from the comfort and convenience of their own living room.
A new way to drive enrolment
If we've learnt anything during Covid-19, it's that we can't always rely on the traditional approach.
A resource that will add lots of value
Utilise your resource now and into the future. Pre-recorded videos can be used across multiple channels.
68%
of people say they'd most prefer to learn about a new product or service by watching a short video.
This makes video more popular as a learning tool than text-based articles (15%), infographics (4%) presentations and pitches (4%) ebooks and manuals (3%).
Source: Wyzowl, The State of Video Marketing 2018
A tailored Agenda that works for you
Tailor your Agenda so that it meets your audiences expectations and includes a balance of key people presenting live on Zoom, and compelling and engaging pre-recorded video.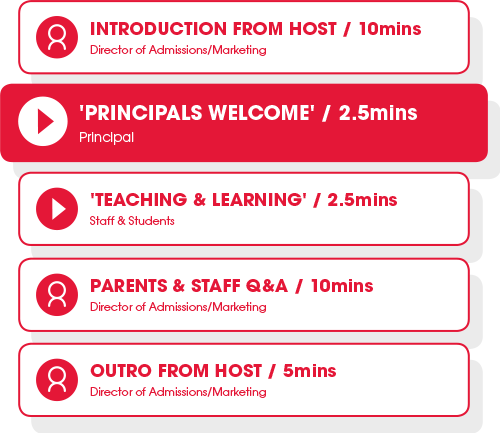 We'll help you adapt
It's only been 2 months now, but we've adapted! We've already setup and run over 20 interviews on Zoom, and we're expecting this trend to continue. There are a few little 'gotcha's' to look out for but we'll be able to share our 'Hosting School Tours on Zoom' tips & training pdf to make sure your tours run smoothly.
Tailor your approach and meet your expectations for enrolment and budget. These 'Starting Small' and 'Playing Big' options should give you a good feel for where to start.
'Starting Small Approach' From $2K+GST

'Playing Big Approach' From $6K+GST
Feel free to get in touch with our team to discuss further.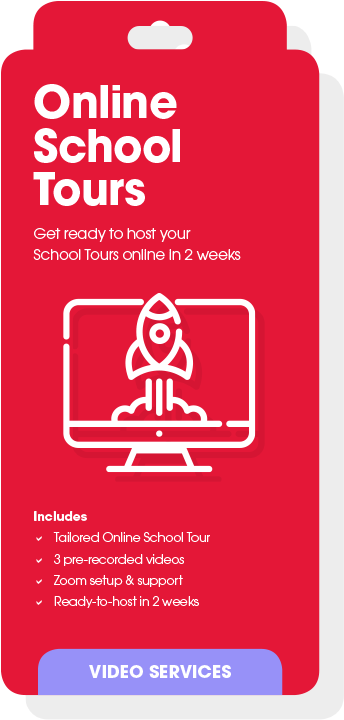 A little bit more info?
If you'd like to know more about your pre-recorded video options, video treatments or even our current filming policy and the ways we're keeping our clients and our crews safe, please download our 16-Page Online School Tours PDF.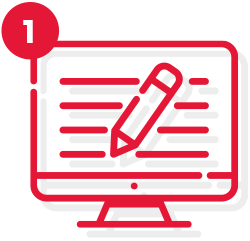 Brief
Are we a good fit? If that's a yes, let's jump on a call to talk through the project in more detail, so we can get started.
Build
Once we've locked down the brief and budget, we'll help you create your pre-recorded video assets, and setup for your tour on Zoom.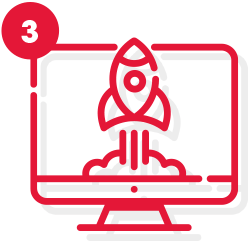 Host
The fun bit - So we have families registered for your upcoming Zoom Tour, time to get ready to host your first ever school tour online.