Check out our latest project for VU…
How our video content package helped VU successfully launch their revolutionary First Year Model
Taking a multi-channel approach
Victoria University worked with Electric Street to develop customised video content and marketing material to help attract, engage and nurture students as they considered the benefits of VU's revolutionary 'First Year Model': an Australian University first designed to help first year students transition into University by focusing on one subject in sequential four-week blocks, rather than juggling multiple subjects at the same time. This content will be used in a range of ways – web, internally, social media. We produced the following content to be utilised across various channels:
Logo Development
Animated Branding Package
4 x 60sec Explainer Videos
8 x 15sec – 30sec Testimonial Videos
4 x Social Ads / Animated GIFs
2 x Digital Flyers / Handouts
Open Day Vox Pops
LAUNCH VIDEO
Communicating 'how it works' in the simplest way possible
An animated infographic explaining what the FYM is/how the block mode works. We created a different version for our 4 key audiences: 'School leavers', 'Non-school leavers', 'International students' and 'Parents, career practitioners and teachers'. The proposition: The First Year Model puts our students' needs first.
Testimonial Content
We interviewed VU's experts on the subject
Interview videos will start with a big question super appear next to the speaker. We're open to adding an animation over the top of the interviews to visually explain difficult to understand elements of the FYM. Ian Solomonidies talks about some of the barriers students may come up against, and gives some tips on how to overcome them
We covered the following topics:
Overcome Barriers
Get Industry Ready
Embrace Flexible Learning
Collaberative Learning
Understanding Assessments
Putting student needs first
An Immersive Approach
Less stress More Focus
Smaller Class Sizes
Single Focus Learning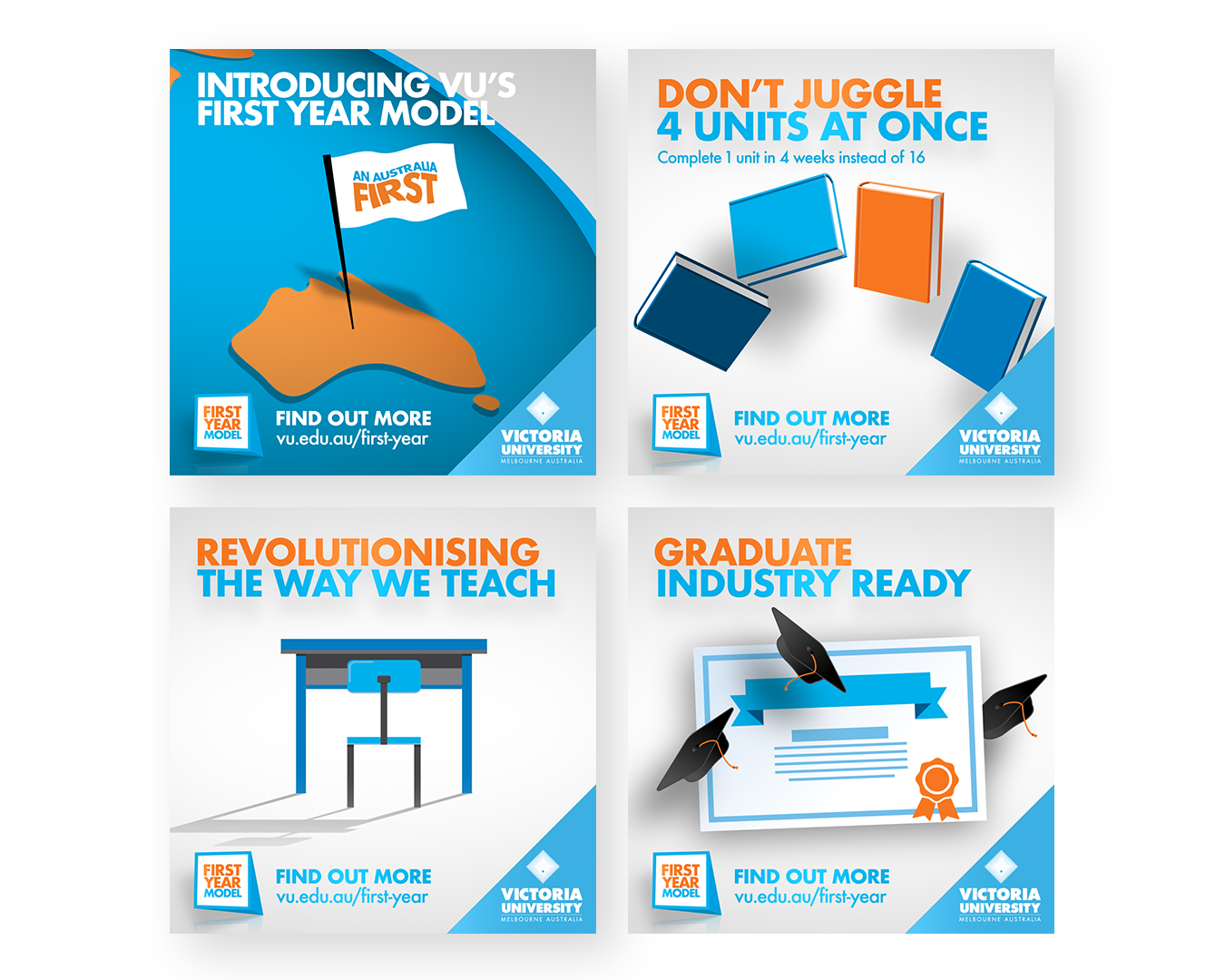 Social Content
We created ads for social
We created a series of ads which reinforced the campaign messaging… Helping students identify the problems FYM helped them solve, and take them on the education journey, helping them make a decision etc etc
Event Content
We created flyers for Open Day
Copy to say that we transferred our content into flyers to hand out to students and potential students at open day to help spread the word… Benefits of handouts / flyers here… something to take with them
THE RESULTS
Our 60sec explainer video and testimonial videos helped engage and nurture students along their journey etc etc And got great results… Here are some business outcomes…
International students success skyrockets with VU's First Year Model

Rolled out across all VU higher education degrees by 2020

Helped to reinforce VU's positioning as a dynamic, innovative and agile University
Our First Year Model is one of a number of new initiatives that Victoria University intends to implement that place the student firmly in the centre of all we do. This is part of our on-going strategic plan to ensure we have the highest levels of student satisfaction among first year students of any university in Victoria by 2020.

Professor Peter Dawkins

Vice Chancellor and President, Victoria University
We are constantly rethinking the University experience through a student lens. This re-imagining of how we deliver tertiary education drives better student outcomes through more active and collaborative learning, in small groups, taught in short, in-depth four-week blocks of study, one subject at a time,

Professor Peter Dawkins

Vice Chancellor and President, Victoria University
Being able to focus on one course at a time allows students to learn quickly and effectively. I am always surprised at how much it is possible to learn in such a brief period, but this is only possible because of the immersive learning environment. The professors are only teaching one class at a time, which means they are focused on providing a quality course. This means they have a lot of one on one time with students.

Matilda Taylor

Student, Quest University, Canada